Connecting kids to healthy food and a culture of health 

The United Way of Passaic County partners with The New Jersey Healthy Communities Network to improve policy, system, and environmental change to improve healthy eating and active living in Paterson Public schools.  To find out more about what is happening in our schools, check out our blog posts at New Jersey Healthy Communities  Network. 
One in three of our nation's children--and one in two children of color--will develop diabetes in their lifetime. Children's diets are partially to blame; 90% of children do not eat the recommended amount of vegetables. Since its launch in 2011, FoodCorps has been working in 350 high-need schools across the country to deliver hands-on cooking and gardening lessons, encourage children to make healthy choices in the cafeteria, and to engage school staff and community members in creating a schoolwide culture of health. This has had a measurable impact on students--an evaluation by Columbia University found that students in FoodCorps schools with more hands-on learning activities eat triple the amount of fruits and vegetables as students who receive less hands-on learning.  Read more about the impact of FoodCorps in schools.  FoodCorps Impact.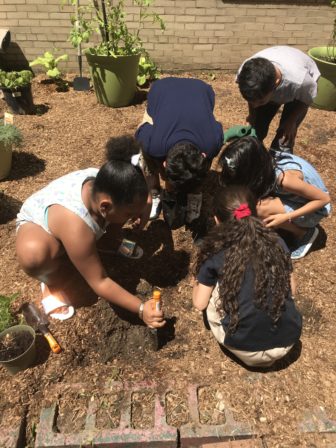 In 2018, FoodCorps AmeriCorps Service Member Amanda Greenlee, won the 2018 FoodCorps Victory Growers Award "for a compelling account of hunger and food insecurity," winning a prize for her service site, United Way of Passaic County in Paterson, NJ. The award, sponsored by C&S Wholesale Grocers, highlights that many children struggle with hunger and food insecurity, and that the food they receive at school is the most important meal they will get all day.  Read more about Amanda's experience here:
To Build a Culture of Health, First Dismantle Inequity 
"Hunger doesn't exist in a vacuum. It's not a result of random traits of a community. Hunger is structural, bound up with our country's long history of racial and socioeconomic discrimination. It is staggeringly complex, and it is also gravely urgent."    Amanda Greenlee, FoodCorps member