Volunteer with United Way of Passaic County!
Give your time.  Give your talent.  Give your muscle.  LIVE UNITED!  When we LIVE UNITED,
we have the power to facilitate change.  UNITED, we can create lasting change in the world and in
Passaic County.  Take action and sign up as a volunteer today!
Log on today to find a local opportunity that is right for you!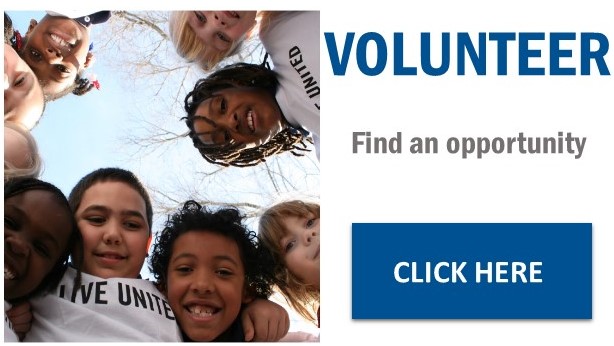 SEASONS OF VOLUNTEERING 
Looking for some ideas on how your group can give back?  Check out our Seasons of Volunteering Calendar listing our ongoing projects and some DIY projects to do at your site.
Available Volunteer Opportunities:
Volunteer tutors are needed to provide individual and group tutoring to struggling students in Kindergarten – 3rd grade. Volunteers are required to attend an orientation and will receive training and weekly support from an onsite reading specialist and teacher. Volunteer opportunities are available October – May during school hours. Volunteers will be subject to school district rules for background check and fingerprinting. Anyone with passion and commitment can help a young person achieve greater academic success.
For more information and/or to become a volunteer tutor please contact Paula Smalling at (973) 279-8900 x204 or paulas@unitedwaypassaic.org.
 Participate in our Financial Empowerment Iniatives
The United Way of Passaic County (UWPC) Financial Empowerment Initiatives (FEI) strive to lift low-income individuals and families in Passaic County out of poverty by helping them to increase their income. Through FEI, clients are able to access: free income tax preparation, free help with Free Application for Federal Student Aid (FAFSA) applications for college financing, and access to financial education.  There are several volunteer opportunities within our FEI programs:
Become a Volunteer Income Tax Preparer!
Volunteer Income Tax Preparer will prepare income tax returns for our VITA clients.  They must be certified at the appropriate level so that all returns are prepared in scope.  The will prepare accurate tax returns for our clients.  Most of our volunteers will be certified at Advanced.  All volunteers must complete at least the Basic Preparer Certification and the Intake and Screening Certification from IRS Link and Learn program.  Experienced and returning volunteers will conduct Quality Review.   More information and registration for training is available at our volunteer site.  
Become a Financial Empowerment Intake and Screening Coordinator!
Financial Empowerment Intake and Screening Coordinators will greet clients that come to the site for VITA or other services.  They will identify which service they have come for, that they have all the necessary documents needed.  If they are coming for tax preparation that the type of tax returns they need prepared is in scope with the VITA program.  They will also ask clients if there are any additional needs.  They must complete the Standard of Conduct from IRS Link and Learn program. More information and registration for training is available at
our volunteer site
.
Bi-lingual Volunteers Wanted!
Are you multi-lingual?  Volunteers proficient in other languages in addition to English provide a much needed service to our Financial Empowerment Initiatives giving us the ability to reach more clients for whom English is a second language. Looking for volunteers proficient in Arabic, Bengali, Farsi, French, Polish, Spanish, Turkish and other languages (in addition to English) to help provide translation and other assistance.   If that is you, please let us know!
Provide one-on-one service to parents and students serving as a guide through the FAFSA application for college financing. This is a great volunteer opportunity for a recent college graduate or someone who wants to mentor first generation students applying to college.  You can choose to volunteer during the school day in area high schools or at our tax site. We provide the training.  Get students excited about going to college while helping them make good decisions on college financing. For more information, please contact Paula Smalling at (973) 279-8900 Ext 204 or paulas@unitedwaypassaic.org.