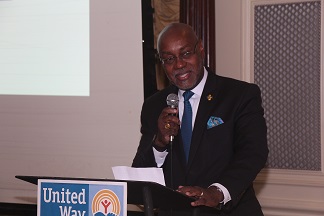 More than 100 individuals joined us at our annual Celebration! event on October 12, 2017 at The Brownstone in Paterson.
We came together as donors, volunteers, and partners, celebrating the "united way" we work toward a shared vision of a better life in Passaic County. United Way and its friends, volunteers, and partners continue to move our community forward. During the past year we have seen exciting progress and results towards making Passaic County a place where all have a chance to live healthy, successful lives
The highlight of the evening was the presentation of the prestigious Community Cornerstone Award to Kenneth M. Morris Jr. The award, UWPC's highest honor, is presented each year to an individual who exemplifies a lifetime of service and dedication to the community. We celebrated his numerous civic activities and recognized Ken's crucial role in aligning with United Way to help make Passaic County a healthier place to live and work.
See all the photos on our Facebook page.
We will have many initiatives and successes to celebrate in 2018 too! We sincerely hope you will join us as a sponsor or attendee at our next Celebration event.
Thank you to our Presenting and Gold sponsors:
St. Joseph's Healthcare System
Wellcare